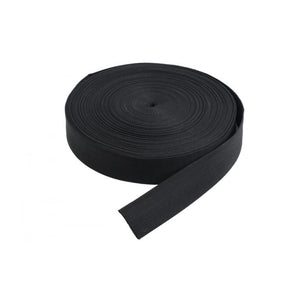 Want to know more ? Contact us below
Nylon Webbing for scuba dive weight system heavy duty. 5cm wide solid in 1.5m lengths.
Nylon webbing is a strong, flexible material that is often used in scuba diving weight systems because of its ability to withstand heavy loads and harsh conditions. It is made of nylon fibers that are woven together in a specific pattern to create a strong, durable fabric.
Nylon webbing is resistant to abrasion, water, and UV radiation, making it well-suited for use in a scuba diving weight system. It is also easy to cut and seal, so it can be customized to fit the needs of the diver. In a heavy-duty weight system, nylon webbing is typically used to hold the weights securely in place and distribute the load evenly across the diver's body.
Available in color: Black.