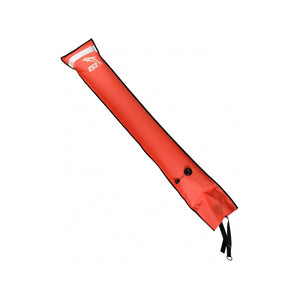 Want to know more ? Contact us below
Reusable, sturdy, dual layer diver surface signal buoy with open bottom and oral inflator
210D nylon exterior with 0.1mm Thermoplastic Polyurethane (TPU) inner bladder
Over pressure valve prevents bursting from over inflation, taped edges reinforce outer seams
High contrast, bright orange color and 3M-brand, USCG-approved SOLAS tape ensures the buoy visible for miles in clear.
Function: Lift Bag is used for salvage projects and can also be used as a marker buoy for decompression or safe stops in open water.

Material: Lift Bag is made of 210d nylon, TPU coating, which can effectively prevent water from penetrating into the bag during use.

Easy to use: Lift Bag with overpressure valve for quick air evacuation when needed.

Features: Lift Bag has a ring handle on the top to maintain the stability of the hanging bag in water.

Diving Accessories: Lift Bag provides excellent equipment accessories for every ocean diver, diver and snorkeler.