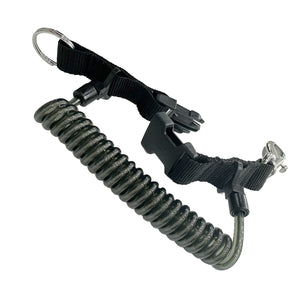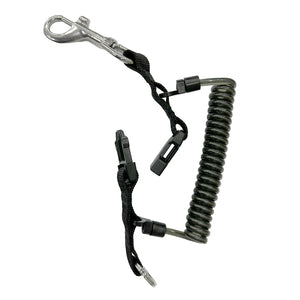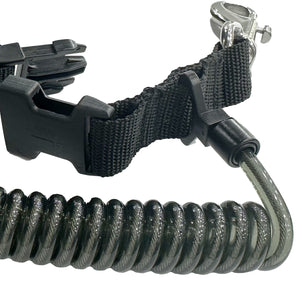 Want to know more ? Contact us below
The Coated Stainless Steel Wire Coil Lanyard with Quick Release Clip is an essential accessory for any diver looking to keep their gear organized and secure. Here are some of the features that make this lanyard an excellent choice:
Coated stainless steel wire coil lanyard: The lanyard is made of high-quality stainless steel wire that is coated for extra durability and resistance to corrosion. This material ensures that the lanyard is strong enough to hold your gear securely while also being flexible and easy to use.

Quick release clip: The lanyard features a quick release clip that allows you to conveniently secure and release your gear with ease. This feature is especially important in emergency situations when you need to quickly free yourself from your equipment.

Extended length: The lanyard extends to approximately 80 cm, providing enough length to comfortably attach your gear to your BCD or other equipment.

Stainless steel fittings: The lanyard has stainless steel fittings at each end, including a split ring and a spring clip, that securely connect to your gear. These fittings are also corrosion-resistant, ensuring that your lanyard remains in excellent condition for years to come.

BCD attachment: The lanyard is designed to attach easily to your BCD or other equipment, providing a convenient way to keep your gear close at hand.
Overall, the Coated Stainless Steel Wire Coil Lanyard with Quick Release Clip is a versatile and durable accessory that every diver should have in their gear bag. Whether you're a beginner or an experienced diver, this lanyard is an essential tool that will keep your gear organized and secure on every dive.