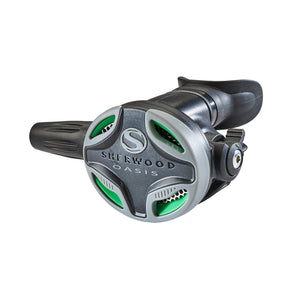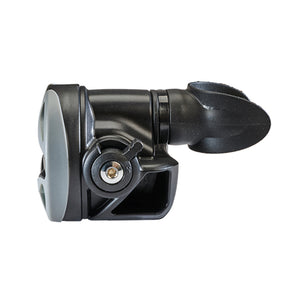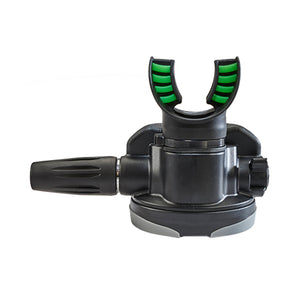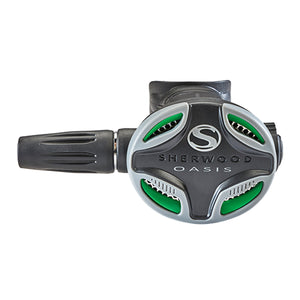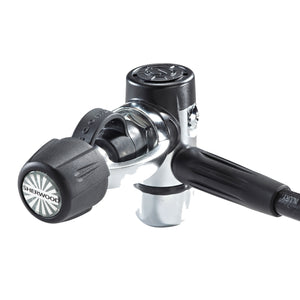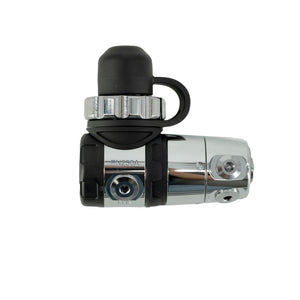 Want to know more ? Contact us below
The new Sherwood Oasis Pro is a completely new design and ready to provide you comfort and easy breathing in all diving conditions. The Oasis's new 2nd stage proprietary valve design has been tested in the most rigorous conditions and continues to perform extraordinarily well. Both in the laboratory and in conducted testing the Sherwood Oasis has stood up to every test.
The proprietary Moisture Retention Vane does an outstanding job capturing exhaled moisture and returns it upon inhalation. No more cotton mouth with this regulator! The larger diaphragm and purge cover and responsive to inhalation provide easy breathing throughout the dive. And the diver operated Venturi control allow the diver to adjust the setting. The Oasis 1st stage is a completely dry and environmentally sealed 1st stage maintains a clean interior. No gels or liquids to seal the Piston 1st stage design.
Cottonmouth and dehydration are a thing of the past with the Oasis Pro

Two Moisture Retaining vanes are carefully designed to capture moisture from your exhaled breath without sacrificing breathing performance

Nitrox Ready up to 40%. Out of the Box.
OASIS 2ND STAGE FEATURES
The MRV, dual Vane System uses two similarly shaped vanes; the lower vane is solid and the top vane has 5 moisture capturing vents. The moisture is captured between the two vanes and upon inhalation the moisture returns to the diver.
This regulator is suitable for water temperatures warmer than 50oF (10oC).

 



9000 1ST STAGE FEATURES
Four LP Ports and Two HP Ports
Environmentally Sealed and Dry. Minimal corrosion extends regulator performance
Flow By Piston
A2-DC

 

Balanced Regulator