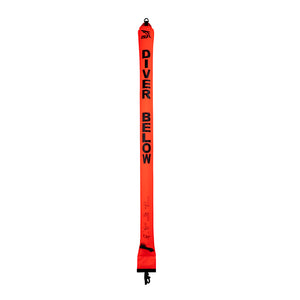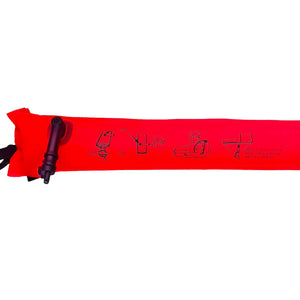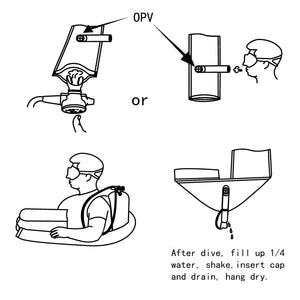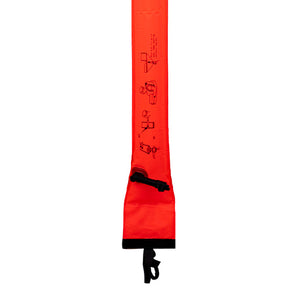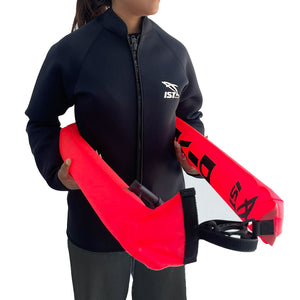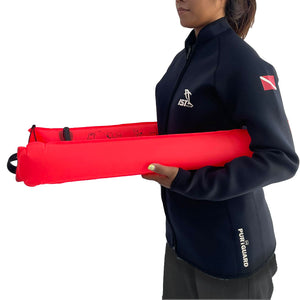 Want to know more ? Contact us below
There are three ways to inflate the surface marker buoy: by blowing air into it from below with your mouth, or by using the inflater with a direct system hose. Once inflated, the air is trapped inside, ensuring it remains fully inflated. The buoy has a pressure relief valve that prevents over-inflation, particularly at depth, and also allows for deflation.
Details:
Surface marker buoy (SMB) for safe ascents and surface visibility.

Features valve for oral inflation, buoy stays inflated at the surface.

Made from 75D TPU coated Nylon.

SOLAS reflective strip.

Rolls up to compact size for easy attachment to BCD with integrated elastic cord.

Length = 5.9ft

Dimension: 181 x 13.5 cm (71.2" x 5.3")
This safety float buoy is essential for diver safety equipment used on drift dives and remains on the surface for the duration of the dive. It is great for cave and wreck diving, scuba diving, traveling diver, snorkeling, photography, spearfishing, and other underwater activities. A surface marker buoy is an invaluable tool for any diver.
The SMB shows boats that there are divers in the water and helps your own boat spot you as you ascend from a dive. Even non-dive boats will understand this signal. If you ascend without an SMB you put yourself at risk of injury. If there is no boat around to pick you up, the safety buoy/SMB will help to gain their attention. Divers also use SMBs to note their position during a drift dive.