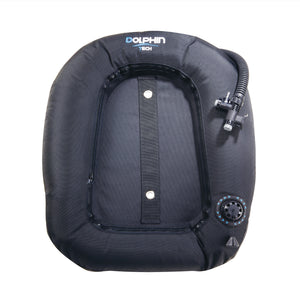 Want to know more ? Contact us below
Single bladder 50lb. wing for the Dolphin Tech modular BC systems. Designed for twin tank use.
The air cells protective shell has a special 3-dimensional cutting design, which promotes streamlining without sacrificing lift. It is constructed from tear resistant material and a durable anti-corrosion zip encloses the replaceable inner air cell. There are 2 drainage holes in the bottom of the shell for water trapped to escape post dive. The circular, doughnut design eliminates gas trapping thus providing technical divers with precise buoyancy control during a dive.
Style: Circular doughnut
Buoyancy capacity: 50lb (22.7kg)
Bladder material: 420D TPU coated nylon
Shell material: 1680D PU coated ballistic nylon
Inflator type included: 16 tech elbow
No. of automatic pressure relieve valve / pull dump: 1 (at left waist side)
Mounting grommets distance (C-C): 11
Low pressure BC hose included
For twin back mounted tanks only (twin 100cuft / 15L internal volume)