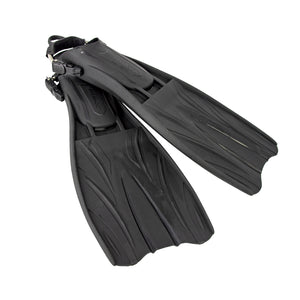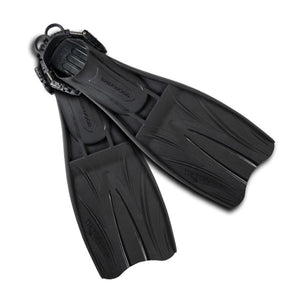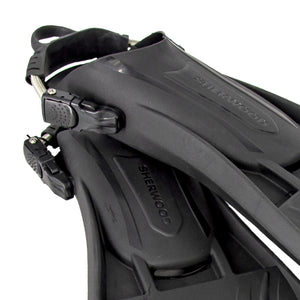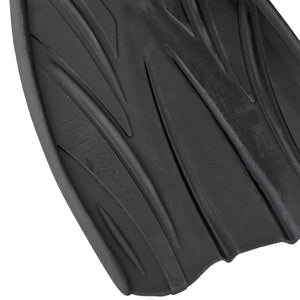 Want to know more ? Contact us below
The Triton Pro is exactly what it sounds like a Professional Version of the Triton Fins. Essentially identical in its appearance to the Triton, the Triton Pro uses a modified compound that provides a stiffer blade and foot pocket. The Triton Pro has more snap in the blade, which results in more power and responsiveness.  
Like a car with a tight suspension, this is not for everyone. But if you are strong legs and want a fin that gets you somewhere quickly, this is a tremendous fin.
Divers will find sculling and back kicking easier in the Triton Pro. The Triton Pro comes standard with Stainless Steel heel straps for increased durability and ease of use.
 Triton Pro by Sherwood is a fin with three vents between the foot pocket and blade that provide additional thrust on the down kick and decrease drag on the up kick or recovery. Foot pocket shape and size derived from years of research to satisfy the most exciting requirements for comfort and power.
The fin blades ribbed design focuses the water down the length of the blade for increased power and thrust. The stainless-steel straps are equipped with a large heel finger loops and squeeze-style side-release buckles for easy donning and doffing. The Sherwood Triton Pro Fins have a vented blade design. Fins are available in multiple sizes.
FEATURES
Three vents between the foot pocket and blade provide additional thrust on the down kick and decrease drag on the up kick or recovery.
Foot pocket shape and size derived from years of research to satisfy the most exacting requirements for comfort and power.
Stiffer compound in the Triton Pro provides more powerful kick than the softer counterpart
Available Sizes: SM, REG, L/XL
Available Colors: Black
SIZING
| | | | |
| --- | --- | --- | --- |
| Size | SM | REG | L/XL |
| US | 4-7.5 | 8-10.5 | 11-15 |
| EURO | 35.5-40 | 41-44 | 44.5-49 |